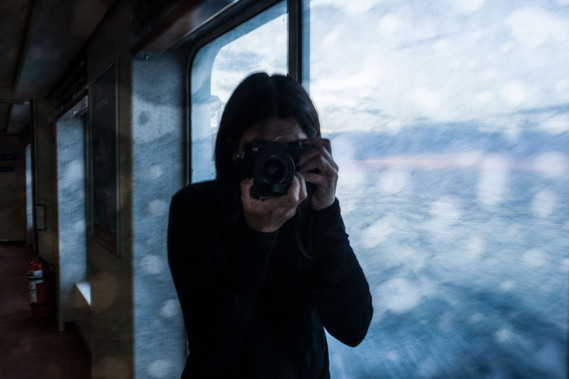 A French national of multicultural origin, born in 1965 and mother of two, I have been living in Switzerland again since January 2018 after having left France in 1997 and lived for several years in Italy, Singapore and Japan.
Expatriation required great adaptability and pushed me to reinvent my life several times. After a rewarding experience of 12 years in the field of industrial marketing and fashion, I chose to study again to become an interior designer, profession that I exercised for several years.
In Asia from 2012 to 2017, I decided to share the emotions I felt while capturing images in the streets. Photography appeared to me as an essential part of my life and I followed some workshops with inspiring photographers who helped me develop an artistic sensitivity and a certain consistency in my work.
Among other things, this allowed me to be selected for the KG + Award in 2017 with my BEHIND serie and to be exhibited in Kyoto during the Kyotography festival. My work is usually judged as being delicate and poetic, while I'm always looking for a singular and sensible aestheticism in the outlook I put on the world around me.
Since 3 years now I have decided to give even more sense to my work and have chosen to focus on a visual documentary approach. My current projects reflect this shift in my life.
Collective Exhibition in Tokyo, June 2016 - 7 Instants - Andaz Hotel Tokyo
Featured in cct-seecity guidezine, December 2016 , www.cct-seecity.com/2016/12/save-okura-tokyo/
Selected for KG+, Kyotographie, April 2017 - Behind - Solo exhibition - Gallery Maronie extended to Junpu Elementary School - Kyoto, www.kyotographie.jp/kgplus/en/2017award/
Competition gallery of the LensCulture Street Photography Award 2017, www.lensculture.com/street-photography-awards-2017
Editors' pick Life Framer, 2018, https://www.life-framer.com/an-instant-editors-pick/
Selected for the book "Familiar Stranger" by PH Museum, 2020, https://phmuseum.com/photobooks/phmuseum-familiar-stranger-photobook/
Coup de coeur #308 by FishEye Magazine for the serie "Distance", 2020, https://www.fisheyemagazine.fr/rdv/coups-de-coeur/les-coups-de-coeur-308/
Selected by Lugano Award for the series "Distance", 2020, https://luganophotodays.photocontest.ch/covid-19/6561/view
Alumni of Criticae Masterclass with PH Museum, 2022/23, https://www.youtube.com/watch?v=-eiOk8g3yDE